Postado por Dayw Vilar em 13/02/2017, 2:40:16
Com Tathianna Nunes
Sucesso. O que mais poderia se esperar da grande noite da música mundial? A 59ª edição do Grammy Awards foi uma brilhante celebração dos melhores lançamentos da indústria musical em 2016. A maior premiação da música aconteceu neste domingo (12)  antes mesmo da cerimônia principal com a entrega mais de 70 categorias foram entregues no Premiere Ceremony.
Abaixo, nossa cobertura com os highlights da noite!
A big night de premiação da 59ª edição do Grammys começou muito bem, obrigado. A cantora britânica Adele abriu ao som de Hello, um dos hits de 2016, canção do seu mais recente álbum "25".
Diva da música pop, Adele concorreu em 5 das principais categorias e disputou diretamente com Beyoncé, indicada em nove categorias, seguida por como Ed Sheeran, que cantou Shape of  You, The Weeknd com Daft Punk e o hit I feel it comming.
Curiosidades que só o Grammy releva. Underworld e Loui Vega ainda estão na ativa. Ambos concorriam na categoria de melhor álbum dance, mas perderam a estatueta para  Flume que levou com o disco  "Skin". E uma pergunta: alguém aqui escutou o último do Weezer? A banda concorria com melhor disco de rock e perdeu o gramofone para "Tell Me I'm Pretty" do Cage The Elephant.
Beyoncé subiu ao palco com dois singles de Lemonade, com Love Drought e Sandcastles, gravidíssima de gêmeos, fez uma performance cheia de discursos, projeções e uma simétrica e milimétrica performance. Na fala de agradecimento pelo prêmio de Melhor Disco Contemporâneo, Bey mandou o recado e a leitura para seu disco, avisando que ele teve a intenção pura de tocar em assuntos necessários e delicados, e que falar sobre representatividade negra nos espaços sociais é uma emergência para um mundo mais igual. Lacrou? Lacrou sim. E ainda falando na Miss Knowles. Ela não venceu todas, ein?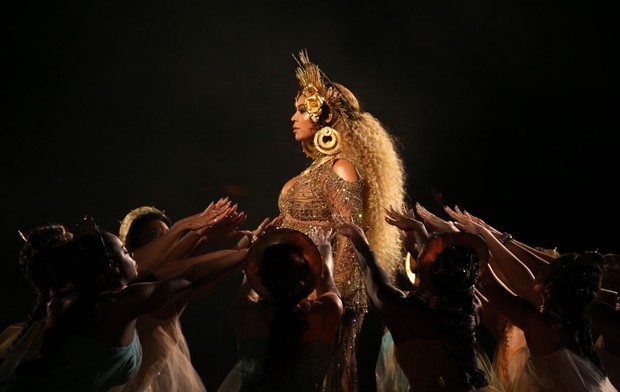 Dirigido por Ron Howard, o excelente documentário "The Beatles: Eight Days A Week The Touring Years" levou o gramophone na categoria de Melhor Música Em Vídeo desbancando o "Lemonade". Mais uma disputa acirrada desta edição de 2017. O vencedor da categoria traz entrevistas de Paul McCartney e Ringo Starr e retrata a primeira parte da carreira do quarteto, entre 1962 e 1966. É joia rara para fãs do quarteto de Liverpool.
Fofinho e animado, o apresentador James Corden conseguiu armar um live com J-Lo, John Legend, a fofa Blue Ivy e o super com "Sweet Caroline". Tudo isso para anunciar Bruno Mars no palco (que tá cada dia me fazendo lembrar mais o groove de Michael Jackson, que performer!). Ele cantou "That's What I Like", do seu disco "24K Magic".
Katy Perry ensinou o que pop pode ser: mensagem e mudança. Performou seu novo single "Chained To The Rhythm" com críticas a Donald Trump. Cercas subiam enquanto ela se apresentava com Skip Marley. "NO HATE", gritou ao fim.
O último disco David Bowie, "BlackStar", rendeu ao camaleão mais 5 Grammys. Bowie levou as estatuetas das categorias de melhor canção de rock,melhor álbum de música alternativa, melhor perfomance rock, melhor projeto gráfico de capa (prêmio compartilhado com o diretor artístico Jonathan Barnbrook) e melhor engenharia musical em um álbum de música não clássica (ao lado de Tom Elmhirst, Kevin Killen, Tony Visconti e Joe Laporta).
Um dos grandes nomes da noite, Adele comandou o momento "facada do coração" com uma homenagem ao seu conterrâneo George Michael. Emocionada, a cantora precisou de uma pausa no meio de sua performance de "Fast Love" e tirou lágrimas de mais da metade da plateia mais desses dois jornalistas que vos escrevem esta cobertura. Foi mais um daqueles momentos que fazem dessa edição inesquecível. A morte de George Michael, ícone pop, pegou todo mundo de surpresa em pleno 25 de dezembro.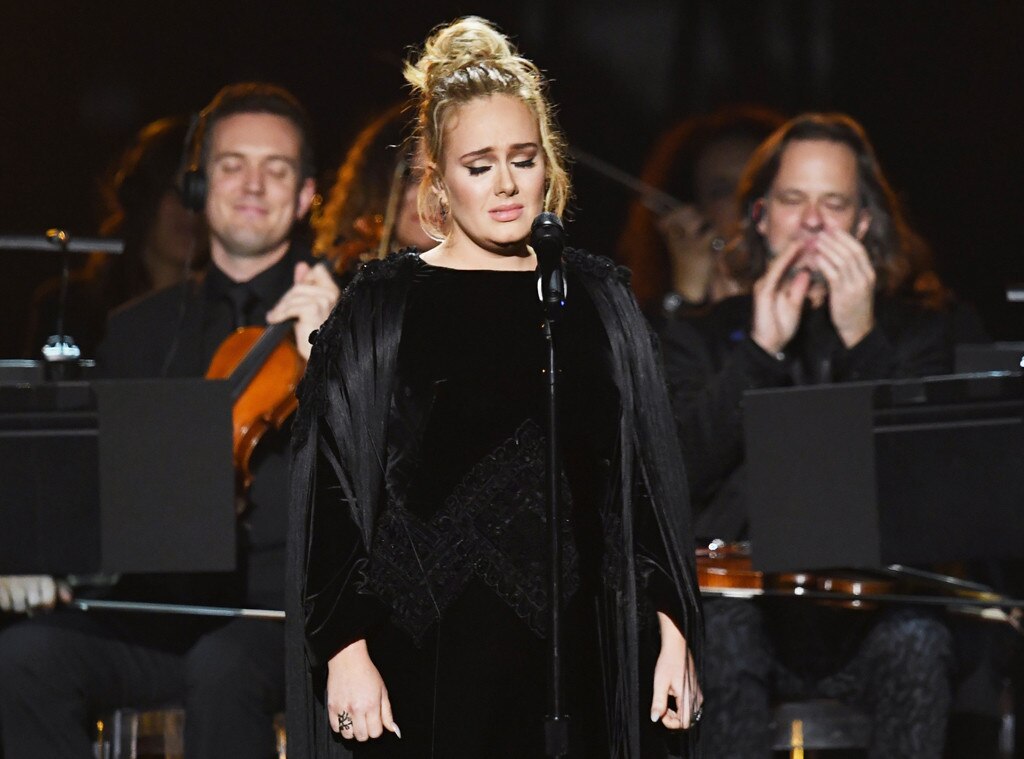 Não deu pro Brasil – representando o país tropical, Caetano Veloso e Gilberto Gil não levaram a estatueta na categoria Melhor Álbum de World Music por "Dois Amigos, um Século de Música: Multishow Live", registro da turnê que rodou o Brasil, os Estados Unidos e a Europa nos últimos dois anos. O prêmio ficou com o violoncelista chinês Yo-Yo Ma.
Fogo, guitarras e muito rock. Respeito para o encontro de Lady Gaga com o Metallica. Nem a falha técnica do microfone de James Heitfeld roubaria a cena. Que show! Cantaram juntos o clássico "Moth into Flame". Mais um pra conta de Gaga, que já se apresentou com o Kiss e Rolling Stones. Rockeira, bebê!
Demi Lovato encabeçou a homemagem aos Bee Gees. Cantando "Stayin' alive", ela foi intercalada por entradas de Tori Kelly (com "Tragedy"), Little Big Town (com "Saturday Night Fever") e Andra Day. Impecável e poderoso tributo.
Ninguém menos que Celine Dion anunciou o vencedor da Melhor Canção do Ano. Referenciando Stevie Wonder e seu marido recém-falecido, Celine emocionada convidou Adele, que abocanhou mais uma estatueta com "Hello". Ela bateu Beyoncé, Bieber, Mike Posner e Lukas Graham.
De arrepiar foi a performance grande grupo do hip hop A Tribe Called Quest e Anderson Pask, Busta Rhymes chamou sírios, palestinos, mulçumanos, mexicanos, derrubou o muro e mandou recado para o "Orange presidente". Versos poderosos de resistência num momento que pede luta contra o nacionalismo predatório de Trump à frente da Casa Branca.
Bruno Mars voltou ao palco com a banda The Time para a segunda homenagem da noite, desta vez, ao eterno Prince, também falecido em 2016. O espetáculo começou com Prima The Time cantando "Jungle Love" e "The Bird". Bruno aparece vestindo um terno roxo e cantou uma versão forte de "Lets Go Crazy", do icônico álbum Purple Rain. Que show!
Tudo foi lindo, exceto o vestido ridículo de Joy Villa (que tem zero importância), mas que quis usar a jaca na cabeça com um vestido bordado com o lema da campanha de Donald Trump, o terrível, "Make America Great Again".
A noite não teve outro nome que não Adele. Música do ano, Gravação do Ano, Álbum do ano e discursos poderosos. Ela, que teve um hiatus na carreira, uma gravidez, dedicou 4 anos para escrever as canções do 25. Hit após hit e com uma personalidade única, charmosa e bem humorada, Adele cantou da dor e sofrimento ao amor mais solene. You go girl!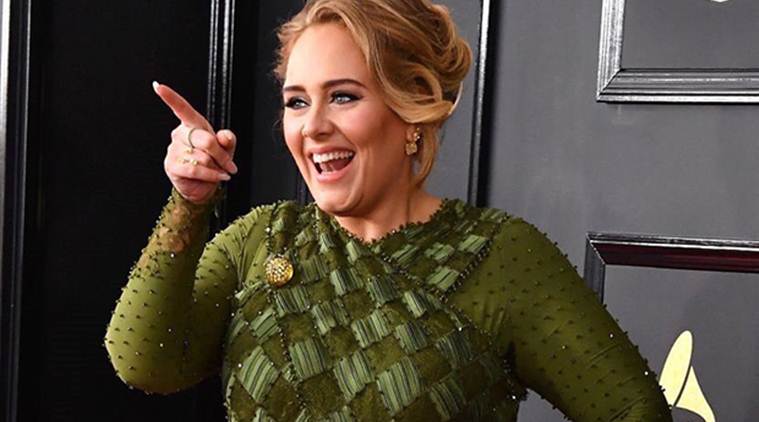 Em seu discurso pelo prêmio de Album do ano, Adele citou Beyoncé e sua importância para a música.
Thank you. Hi, guys. Hi. Hi, everyone. Hi. Hi. Hi. Hi. As you can see, it took an army to make me strong and willing again to do it. And I thank you all from the bottom of my heart.
Five years ago, when I was last here, I was so―I was pregnant, and I didn't know. And I was awarded that shortly after, I found out shortly after, which was the biggest blessing of my life. And in my pregnancy, becoming a mother, I lost a lot of myself. I struggled and I still do struggle being a mom. It's really hard. But tonight winning this kind of full circle.
But I can't possibly accept this award, and I'm very humbled and very grateful and gracious but my life is Beyonce, and the album to me, the "Lemonade" album, Beyonce, was so monumental, and so well thought out. And so beautiful and soul bearing and we all got to see another side of you that you don't always let us see, and we appreciate that. And all us artists adore you. You are our light. And the way that you make me and my friends feel, the way you make my black friends feel is empowering, and you make them stand up for themselves. And I love you. I always have. And I always will. I appreciate it.
The academy, I love you, my manager, my husband, and my son. You're the only reason I do it. Thank you so much. Thank you very much to everybody.
Premiados:
Song of the Year: "Hello" – Adele
 Album of the Year: 25 – Adele
Record of the year: "Hello" – Adele
Artista Revelação: Chance the Rapper
Best Pop Vocal Album: "25" – Adele
Best Pop Solo Performance: "Hello" – Adele
Best Pop Duo/Group Performance: "Stressed Out" – Twenty One Pilots
Best Rap Song: "Hotline Bling" – Drake
Best Rap/Sung Performance: "Hotline Bling" – Drake
Best Rap Performance: "No Problem" – Chance the Rapper
Best Rap Album: "Coloring Book" – Chance the Rapper
Best R&B Performance: "Cranes In The Sky" – Solange
Best Urban Contemporary Album: "Lemonade", Beyoncé
Best Traditional R&B Performance: "Angel" – Lalah Hathaway
Best R&B Song: "Lake By The Ocean" – Maxwell
Best Dance Recording: "Don't Let Me Down" – The Chainsmokers feat. Daya
Best Country Song: "Humble And Kind" – Tim McGraw
Best Country Album: "A Sailor's Guide To Earth" – Sturgill Simpson
Best Country Solo Performance: "My Church" – Maren Morris
Best Dance/Electronic Album: "Skin" – Flume
Best Country Duo/Group Performance: "Jolene" – Pentatonix Featuring Dolly Parton
Best Rock Performance: "Blackstar" – David Bowie
Best Rock Song: "Blackstar" – David Bowie
Best Traditional Pop Vocal Album: "Summertime: Willie Nelson Sings Gershwin" – Willie Nelson
Best Alternative Music Album: "Blackstar" – David Bowie
Best Rock Album: "Tell me I'm Pretty" – Cage The Elephant
Best Song Written For Visual Media: "Can't Stop The Feeling!" – Justin Timberlake
Best Score Soundtrack For Visual Media: "Star Wars: The Force Awakens"
Best Musical Theater Album: "The Color Purple" – Danielle Brooks, Cynthia Erivo & Jennifer Hudson
Best Music Video: "Formation" – Beyoncé